UNHCR finds new policies since 'PNG solution' have made things worse for asylum seekers, who suffer inhumane treatment
Oliver Laughland in Canberra
theguardian.com, Tuesday 26 November 2013 21.00 AEST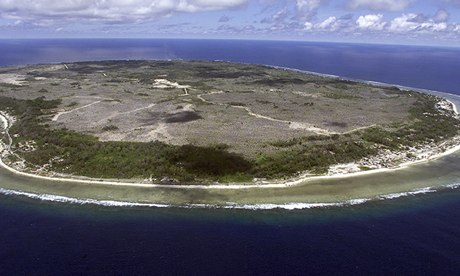 The UN refugee agency (UNHCR) has published two damning assessments of Australia's offshore detention regime, concluding the policies breach international law and offer inhumane treatment to people subject to harsh deterrence policies, including transfer to Nauru or Manus Island within 48 hours.
The reports, one on Manus and one covering Nauru, published simultaneously, follow post-election UNHCR visits to Australian detention facilities. They make clear that new policy, introduced by both Labor and the Coalition since 19 July (when the Labor government introduced the so-called "PNG solution" of mandatory regional resettlement) have significantly lowered the quality of care offered to asylum seekers offshore.
Both reports conclude that the offshore processing of asylum seekers constitutes "arbitrary and mandatory detention under international law"; that no offshore processing centres offer "safe and humane conditions of treatment in detention", and none provide a "fair, efficient and expeditious system for assessing refugee claims".